Product Information
This product consists of charging power model, monitor, meter, card reader, HMI, communication model, USB, actuator and outdoor cabinet. It is easy to install and maintain. The charger also with multi-protection function, which can monitor the connection status of cables when working. If there is any faults during the connection, it will stop immediately to ensure safety. The UI is clear, which is convenient for users to finish the entire charging process. This product provides CAN, Internet and GPRS communication interfaces, which can communicate with monitoring center and operation center.
‍Models and Definitions‍
SCDE (smart charging and discharging equipment) is used to name electrical cars fast chargers.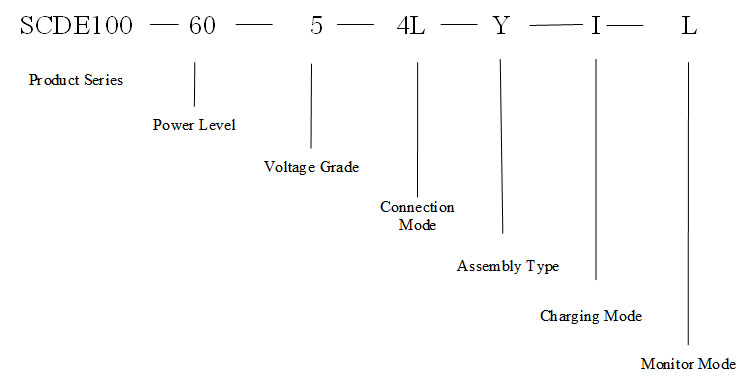 Monitor Mode: L: LCD Monitor, E:LED Monitor;
Charging Mode 1:Single Gun Charging, 2E:Double Dynamic Charging Gun 2A:Double Guns Charging in turns;
Assembly Type: Y:One Piece, H:Hanging, F:Split Type;
Connection Mode 3L:Three-Phase Three-Line, 4L: Three-Phase Four-Line;
Voltage Grade 5: 500V, 7: 750V;
Power Level: 60: 60KW, 120:120KW ;
Product Series: SCDE100-series products
Product Characteristics
Non-contact card device is adapted; and encryption and authenticity are adapted to ensure the data security.
The charging device adopt many high-frequency power model backup working in parallel, which consists of high-power charging system. The non-uniform mobility is less than 5%. It is highly reliable and easy to maintain.
The power model adapts LLC resonance technology which has improved power efficiency. The efficiency of entire charger is higher than 95%.
Sectional constant power design enables setting output voltage range, which can improve charging speed. There two options: fast charging and medium-speed charging.
There are standard insolation CAN communication interface and monitor communication inside the power model.
There are independent monitor in charging system, which enables the communication between UI and upper computer and monitors operation status. The UI adapts high-performance ARM and 7 inches colorful touch screen.
Charger monitor connect through CAN bus and BMS or truck-mounted instrument. It operates based on BMS parameters and it can also set different working mode enabling fast charging.
The entire system can provide complete protection, for example, AC over/under-voltage protection, AC leakage protection, DC output/owe protection, output current limit/over-current protection, over temperature protection, the battery reverse connect protection, etc.
Operation panel is molded by one time injection, which is beautiful and durable.
Products Advantages
The efficiency of class A quality≥94%. The product is energy-saving with high efficiency which is in the leading place of entire power densities. Charging power model has adapted active power factor correction technology; harmonic interference≤5%,the power factor is up to 0.98.
The system use multi-model output in parallel, which is flexible and easy to maintain.
Because of the completed protection, the product operates safely. The product offers input/output/self-check and operation protection, over/under-voltage protection, DC output overvoltage/short circuit protection, module/fault overheating protection, insulation protection and battery connection protection.
Application Areas
This product can be used for absolute-electricity cars, taxis and buses in charging station, enterprise-use and business-use parking areas.