‍Product Information‍
This product consists of charging power model, monitor, meter, card reader, HMI, communication model, USB, actuator and outdoor cabinet. It is easy to install and maintain. This design offers lightning protection, overvoltage, under-voltage, overload, short circuit, etc. multiple protection functions. The charger also with multi-protection function, which can monitor the connection status of cables when working. If there is any faults during the connection, it will stop immediately to ensure safety. The UI is clear, which is convenient for users to finish the entire charging process. This product provides CAN, Internet and GPRS communication interfaces, which can communicate with monitoring center and operation center.
Models and Definitions
SCDE (smart charging and discharging equipment) is used to name electrical cars fast chargers.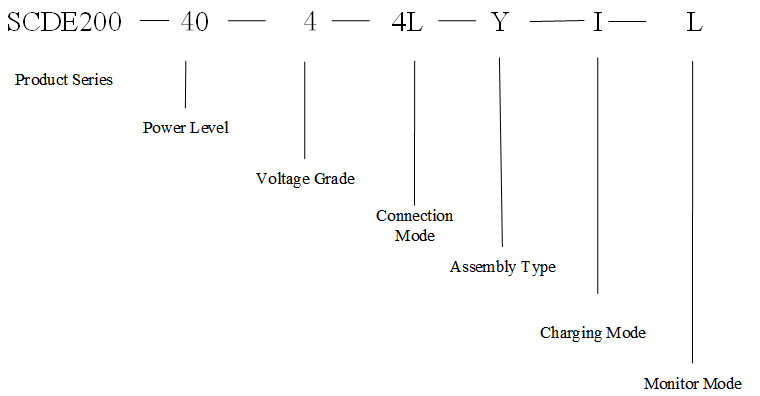 Monitor Mode: L: LCD Monitor, E:LED Monitor;
Charging Mode 1:Single Gun Charging, 2E:Double Dynamic Charging Gun 2A:Double Guns Charging in turns;
Assembly Type: Y:One Piece, H:Hanging, H: Hanging;
Connection Mode 3L:Three-Phase Three-Line, 4L: Three-Phase Four-Line;2L: Single-Phase Two-Line
Voltage Grade 4: 380V Three-Phase AC, 2: 220V Single-Phase AC;
Power Level: 40: 40KW, 7:7KW ;
Product Series: SCDE200-series products
Product Characteristics
Non-contact card device is adapted; and encryption and authenticity are adapted to ensure the data security.
There are independent monitor in charging system, which enables the communication between UI and upper computer and monitors operation status. The UI adapts high-performance ARM and 7 inches colorful touch screen.
This product can store charging records and black lists and ensure the data secure and correct.
The charging control system support remote and local upgrade function.
This product offers Ethernet interfaces, CAN, RS485, RS232, USB, 3G/4G, Bluetooth and GPS.
Operation panel is molded by one time injection, which is beautiful and durable.
Products Advantages
This product support input, output, unit self-check and operating connection protection, input over/under voltage protection, short circuit protection, superheat/fault protection and insulation protection, charging interface connection check, etc. 1.0 level multi-functional watt hour meter is adapted, which can ensure the accuracy of power consumption.
The product offers input/output/self-check and operation protection, over/under-voltage protection, DC output overvoltage/short circuit protection, module/fault overheating protection, insulation protection and battery connection protection.
Application Areas
This product can be used for absolute-electricity cars and taxis in charging station, enterprise-use and business-use parking areas.