Application Area
Based on its superior patented technologies such as solid insulation, solid sealed pole, fully-insulated modular busbar, etc, solid insulated ring main unit fully meets the ring network and radiation distribution network of various wiring programs.
At the same time, solid insulation switch unit has been in the alternative demarcation switch, box-type substation high-side switch, KYN28 in the cabinet, XGN fixed cabinet and other applications have high quality performance, especially for those area which pursues SF6 free.
The intelligent terminal equipment connected to the solid insulated switch unit can monitor and control the real-time situation remotely and ensure the intelligentity, reliability and flexibility of the distribution network system.
Product Features
• Comaring with the gas insulated switchgear, this electrical distribution equipment is SF6 free, no SF6 is contained, avoiding pressure tank designing.
• All live parts are sealed or embedded in the epoxy resin and silicon rubber, fully insulated and wholly enclosed structure, safety protection level: IP67.
• All operating mechanism sealed inside a box, truly maintenance-free.
• Enhanced phase separation design, independent phase insulation to avoid the fault between phases.
• Standard modular design to facilitate unit extension, modification and replacement.
• Switch working position of each phase could be observed independently.
• Safe, smart, environment-friendly, flexible assembly enabled, good performance to apply in special environments.
• Multiple mechanical interlock to achieve 'five-protection' function.
• Complete indoor & outdoor switchgear application solution.
Multi-environment Application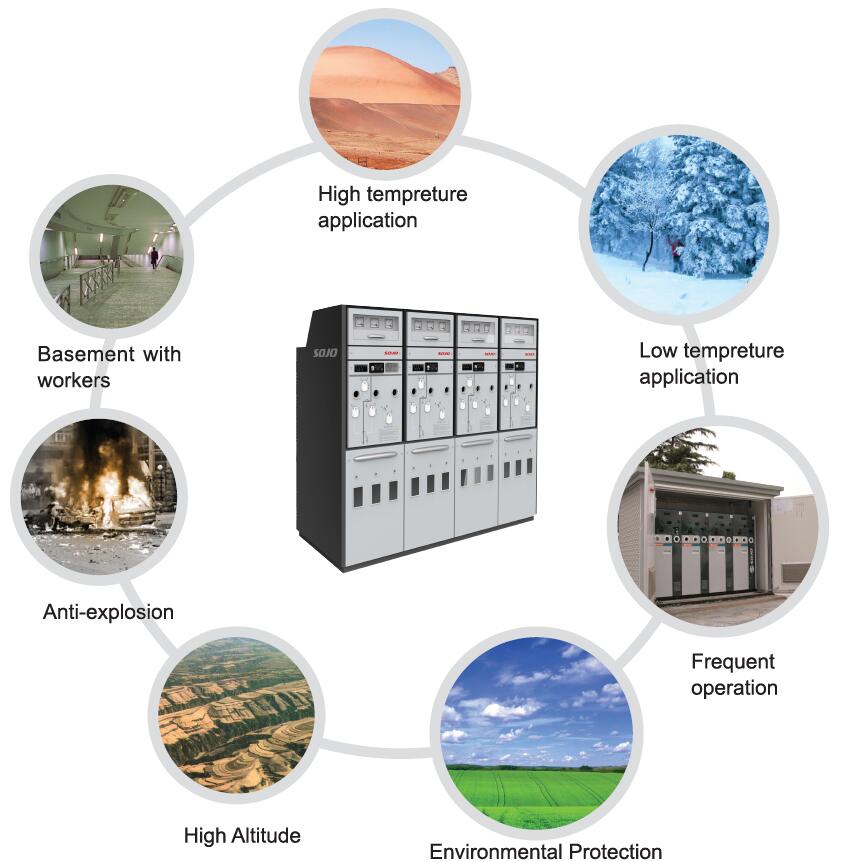 Coastal area: fully sealed structure of the mechanism, professional high salt spray testing equipment to ensure long-term application in coastal areas.
Low temperature area: The solid insulated switchgear doesn't need SF6, so the potential problem caused by insulation gas being liquified under low temperature can be avoided.
Plateau area: Due to the absence of SF6, the problems caused by the big pressure difference between the inside and outside of the gas tank in high altitude areas can be avoided.
Explosion forbidden places: The switch adopts vacuum interrupter sealed with epoxy resin bushing which can prevent the gas exposure and explosion.
Basement with workers: The density of SF6 is 5 times higher than air on the same condition. So if the SF6 in a traditional RMU leaks out, it will accumulate in low area, so the workers there could be harmed or suffocated.

Frequent switching operation situation: Switch operations for solid dielectric designed RMU reaches 20,000 times.
Areas with high requirements for environmental protection: Our solid insulated switchgear doesn't contain SF6, which is a kind of greenhouse gas.
Windy and sandy area:The IP rating of the live parts reaches IP67. The control circuit compartment is specially treated, so our product can work in windy and sandy area for a long time.
High temperature environment: Suitable for special areas of high temperature environment, the maximum temperature of normal operation is up to 70 ℃. The high temperature environmental test has been performed.
Nominal Working Conditions
Ambient temperature
Maximum temperature + 70℃
Minimum temperature - 50℃
Humidity Level
Maximum comparative average humidity
Daily average ≤ 95%
Monthly average ≤ 90%
Seismic capacity
Level 8
Altitude
≤5500 M
Water submersion test
24 hour water resistance at a pressure of 0.3 bar and voltage of 12 KV.
Degree of protection
Sealed electrified body IP67
Fuse tube IP67
Metal enclosure IP4X
Busbar
Internal earthed busbar 150 mm2Cu
Thickness of insulation bushing 12.0 mm
The diameter of sealed and insulated busbar 28.0 mm
Structure Diagram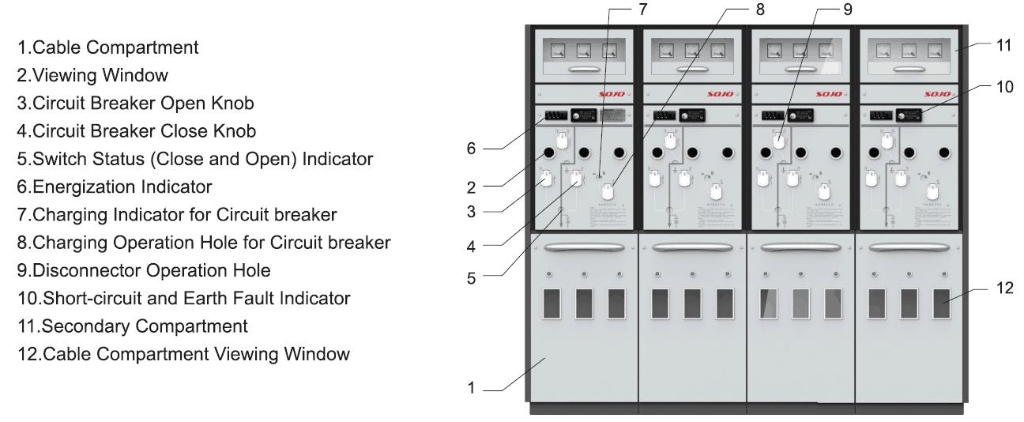 Dimensions