Applicable Environment
· The altitude shall not exceed 2000m;
· The ambient temperature is not higher than + 40°C (for marine products, + 45°C) and not lower than - 5 °C;
· The relative humidity of the environment shall not exceed 50% when the maximum temperature is + 40 °C. at a lower temperature, it can have a higher relative humidity;
· The maximum inclination shall not exceed + 5 °;
· It can work reliably under normal vibration of the ship;
· Reliable operation under earthquake (Level 4);
· Where there is no explosion hazard in the medium and the medium is not enough to corrode the metal and destroy the insulating gas and conductive dust;
· Where there is no rain or fog; Pollution level: 3;
· Installation category: the installation category of main circuit is ear, and the installation category of auxiliary circuit and control circuit not connected to main circuit is I;
· Circuit breaker 1 3. 5. N is the incoming end, 2 4. 6. N is the outgoing terminal;
· The circuit breaker shall be installed vertically and upside down is not allowed;
*External magnetic field near the installation site of circuit breaker. It shall not exceed 5 times of the geomagnetic field in any direction.
Applicable Standard
IEC60947-1
IEC60947-2
This product has passed "CCC" Certification
Model Explanation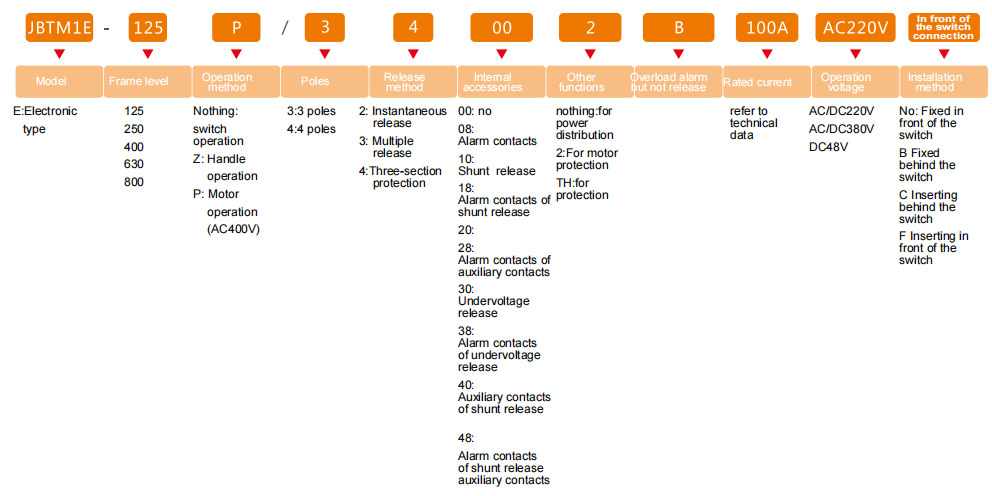 Product Category
According to the number of poles of the product, there are: three-pole, four-pole
According to the rated current, there are:
JBTM1E-125: 16A、20A、25A、32A、35A、40A、45A、50A、55A、60A、63A、65A、70A、75A、80A、85A、90A、95A、100A、125A;
JBTM1E-250: 100A、125A、 160A、 180A、 200A、 225A、 250A ;
JBTM1E-400: 225A、250A、 315A、 350A、400A ;
JBTM1E-630: 400A、420A、440A、460A、480A、500A、530A、560A、600A、630 A;
JBTM1E-800: 630A、640A、660A、680A、700A、720A、740A、760A、780A、800A.